An exciting, and keenly anticipated, weekend of ice climbing was held on two continents on the weekend of 23-24 January. In the French Alps, the UIAA Ice Climbing European Championships unfolded in Champagny-en-Vanoise while in North America, the competition arm of the annual Ouray Ice Festival, provided an enthralling mix climbing event.
The event in Champagny, organised in conjunction with the resort of La Plagne and UIAA member association FFCAM, witnessed 36 athletes from countries take on lead and speed events in what will prove to be one of few competitive ice climbing events held this season. The impact of Covid-19 and in particular restrictions on travel mean a number of competitions have been cancelled. The UIAA made the decision last year that it would not be possible to organise a World Tour during 2020-2021 season.
The UIAA supported the international distribution of the historic Ouray Ice Festival, southwest Colorado, where a number of athletes who are regulars on the UIAA Ice Climbing World Tour took part. The event is organised by Ouray Ice Park. A livestream of the mixed climbing finals (eight men, eight women) was broadcast on the UIAA YouTube and Facebook channels. Keenan Griscom, aged just 16, defeated Kevin Lindlau and Cody Stevenson in the men's competition with Corey Buhay sealing victory ahead of Angela Limbach and Catalina Shirley in the women's event.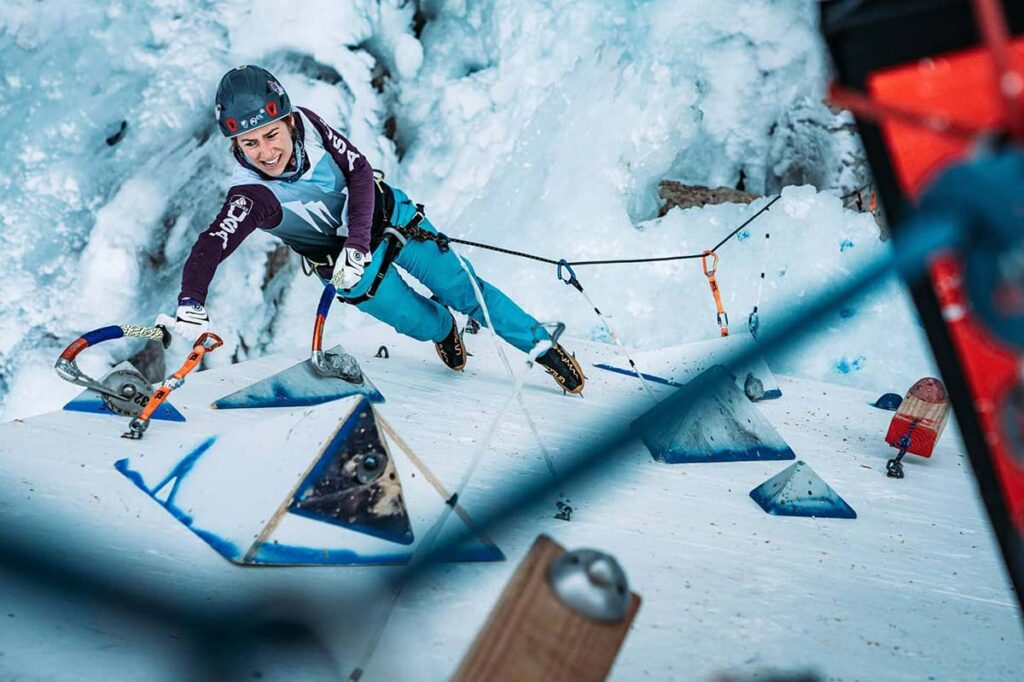 Covid-19 restrictions meant no spectators were allowed to attend the event, a measure which led the organisers to place even greater emphasis on its live broadcast (to date almost 50,000 viewers followed the competition). Viewers were treated to an excellently organised event held in snowy conditions with the routes set on a mix of real ice and rock finishing on an artificial tower. In essence, athletes had to master challenges from both outdoor and indoor climbing environments.
In Champagny, the UIAA Ice Climbing World Cup stars in attendance were keen to impress. Winner of the UIAA Ice Climbing World Tour in lead last season, local climber Louna Ladevant dominated the competition topping in each of the three rounds. This impressive consistency and a virtuoso display on the last climb of the weekend earned him victory of Russia's evergreen Nikolai Kuzovlev and Louna's older brother Tristan Ladevant.
Kuzovlev was one of the favourites for the speed crown (non duel format) but finished back in sixth as a strong Russian team dominated. Danila Bikurlov took the plaudits in the final with a climb in 7.81 seconds. Impressive considering his rival was Anton Nemov (8.31) who over the past two years has been near imperious. Vladislav Iurlov took bronze ahead of Pavel Shubin.
Maria Tolokonina unsurprisingly reigned supreme in the women's competition. A climb in 10.57 seconds earned her the speed title over compatriot Irina Dubovtseva (11.44). Valeriia Bogdan claimed bronze ahead of Czech athlete Aneta Louzecka.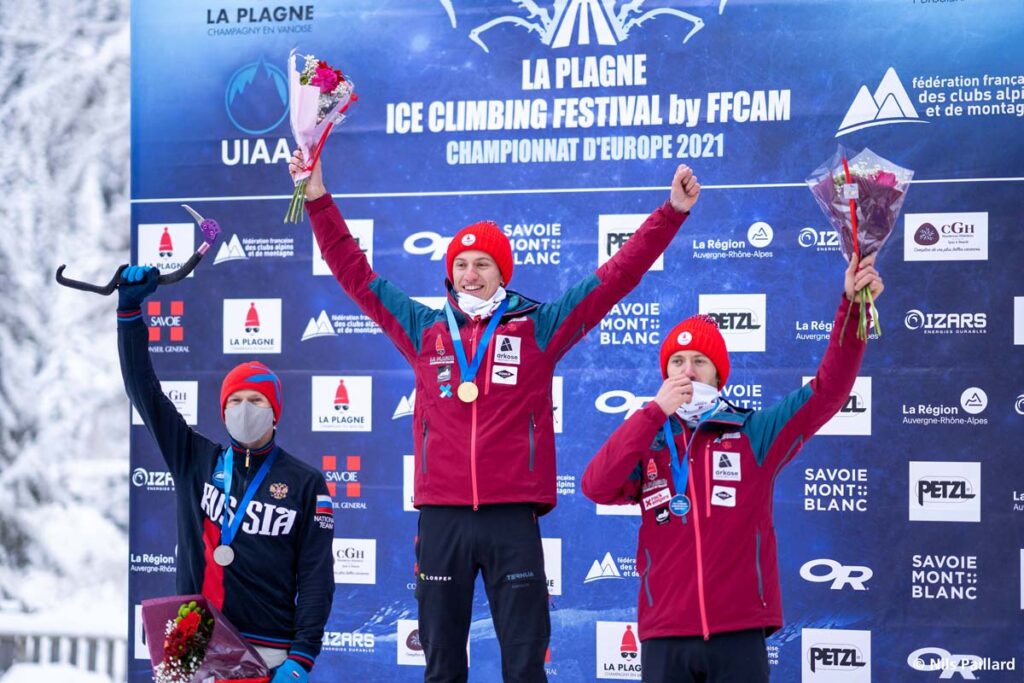 Not for the first time in her career, Tolokonina was able to master both disciplines during the same weekend. Topping both the qualification and semi-final routes, she climbed highest in the final, ahead of Switzerland's rising Sina Goetz and fellow Russian Ekaterina Vlasova. The top six had an international feel with Finland's Enni Bertling, France's Marion Thomas and Louzecka all putting in strong performances.
To ensure the weekend's event was run safely, all athletes, officials and staff had to submit negative Covid-19 PCR tests before the event. Over fifty random rapid tests were conducted throughout the weekend which all returned negative.
A stream of the competition will be broadcast at 17:00 GMT on the UIAA Facebook and YouTube channels on Tuesday 26 January (speed) and Wednesday 27 January (lead).

UIAA Ice Climbing European Championships (Stream) – Speed Finals

UIAA Ice Climbing European Championships (Stream) – Lead Finals
The UIAA is still hopeful that the competitions scheduled to be held in Russia at the end of February, including the World Youth Championships, as well as a European Cup in Oulu, will still take place. Please refer to the UIAA Ice Climbing page for further details and future updates.
UIAA Ice Climbing events are partnered by Outdoor Research.
UIAA Ice Climbing European Championships
Live Results – Results (Men's Lead, Women's Lead, Men's Speed, Women's Speed, Men's Combined, Women's Combined) – Video (stream available 17:00 GMT, Tuesday 26 January for speed; 17:00 GMT, Wednesday 27 January for lead) – Photos
Ouray Ice Festival + Competition
Main photo: Louna Ladevant (France) climbs to victory in Champagny. Credit: Nils Paillard