As part of the Mountain Women of the World project, a dedicated Webinar is being launched on Earth Day (22 April), led by a transnational network of mountain women. It will be a space for groups of mountain women from around the world to share experiences and knowledge. The attendance to the Webinar is open for registration.
The UIAA will be represented by three members of its Mountain Protection Commission, Dr Carolina Adler (New Zealand), Professor Harshwanti Bisht (India) and Aupar Ahmed (Bangladesh).
The Webinar, to be held from 13:00 to 15:00 UTC, is organised by the project partners of Mountain Women of the World: Empowering Women of Nepal, Feminist Hiking Collective, Kilimanjaro Women, Mujeres a la Cumbre, Cholitas Escaladoras de Bolivia, 3 Sisters Adventure Trekking and Women Who Hike Africa. With the participation of: Mountain Partnership, the UIAA – International Climbing and Mountaineering Federation, Travolution, Italian Alpine Club, Bangladesh Mountaineering Federation, South South Women, Alessandra Segantin, Ana Agustina Barros and Gender Responsible Tourism.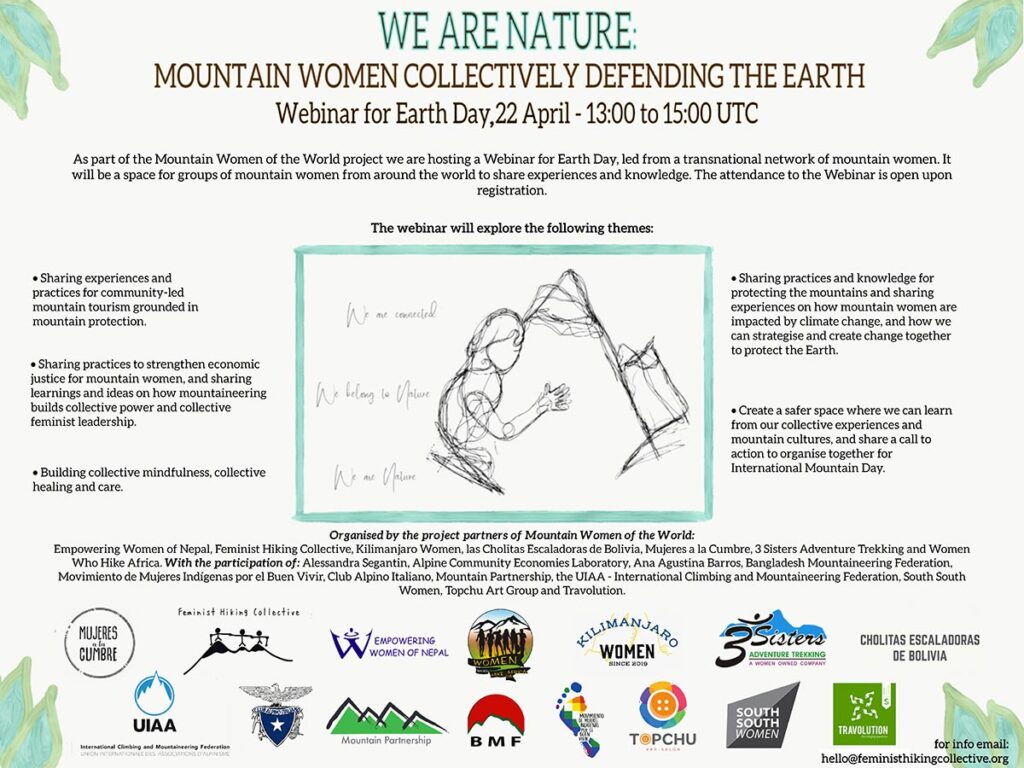 The Webinar will cover the following themes:
Sharing skills and practices for sustainable mountain development and community-based tourism.
Sharing advice and ideas to strengthen economic justice for mountain women and sharing skills and practices on how mountaineering builds women's collective power and collective feminist leadership.
Building collective mindfulness and radical healing.
Sharing practices and knowledge for protecting the mountains' environment, including on 'leave no trace' and water protection, and sharing experiences on how mountain women are impacted by climate change and how we can strategise to create change together for climate justice.
Create a safer space and a space where we can learn from our collective experiences and mountain cultures, and share a call to action to organise together for International Mountain Day, with a focus on sustainable mountain tourism.
Further Details
Registration can be completed here.
For further information and to view the dedicated flyer please click
here
.
The final agenda can be viewed
here
.