Two recent equipment recalls have been communicated to the UIAA by UIAA Safety Label Holders, Wild Country and Mammut.
Wild Country, 13 February
Voluntary Recall of Wild Country Superlight Rocks 
Name of Product:  Wild Country Superlight Rocks Nos. 1-6  (code 40-RSL) and Superlight Rocks Set Nos. 1-6 (code 40-RSLSET) produced prior to January 2023.
Wild Country asks that all owners and retailers of Wild Country Superlight Rocks Nos. 1-6, please immediately stop all use of Wild Country Superlight Rocks Nos. 1-6
Hazard: Wild Country has recently learned that when single cable Superlight Rocks are exposed to maritime seaside conditions with high concentrations of salt, and/or humid climate with salty atmosphere for an extended period of time, corrosion inside of the ferrule (the swage covered in plastic that is labelled with the name of the product) can occur.  This can significantly reduce the breaking strength of the chocks and may therefore become dangerous for a climber in the event of a fall from height.
Remedy: Dealers and consumers should immediately stop using all Superlight Rocks Nos. 1-6 and contact Wild Country for instructions to obtain a replacement.
This recall does not apply to any other Wild Country Rocks, other than the Superlight Rocks Nos. 1-6 produced prior to January 2023.   Wild Country Rocks, Classic Rocks, Rock Centrics, and Superlight Offset Rocks are not subject to this voluntary recall.
Further Information
For full details – including visuals – please click here.
Recall procedure
Recall FAQs
Safety Notice – English, French, German, Italian
—
Mammut, 17 February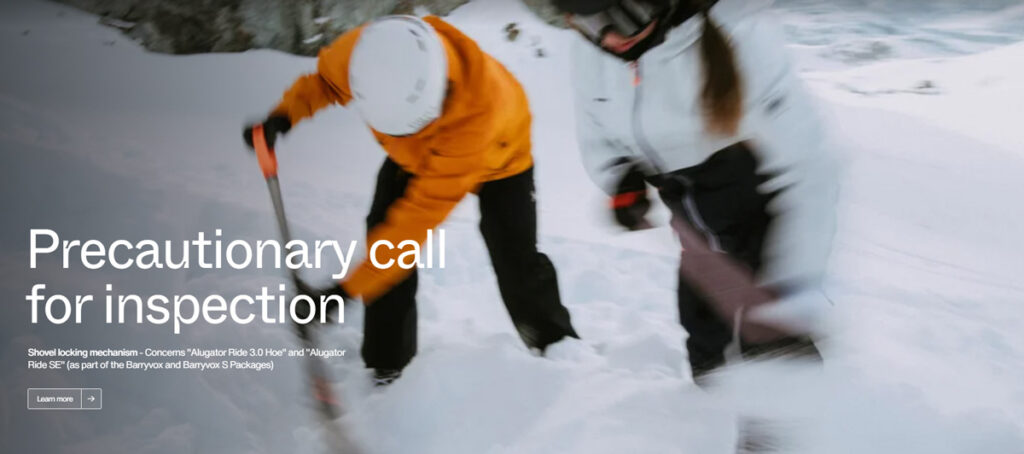 Precautionary call for inspection: Shovel Locking Mechanism
Concerns the Alugator Ride 3.0 Hoe and the Alugator Ride Se (as part of the Barryvox packages)
From Mammut: Through valuable consumer feedback, it has come to our attention that the locking mechanism of two shovel models could be compromised in some cases, due to a material error of a plastic component supplier. This leads to the fact that some shovels might face difficulties being assembled. We inspected 100% of our stock immediately after receiving the feedback. The inspection confirmed that solely the Alugator Ride 3.0 Hoe as well as Alugator Ride SE models might be affected. The latter is part of the Barryvox Package, the Barryvox S Package, and the Barryvox Package Tour. ​ Only products produced as of November 2021, might face those issues.
Due to the material error of the component supplier, the automatic spring lock mechanism, essential for quick, precise guidance while assembling the shovel, can show a production defect in some cases. The pin joint that connects the shovel shaft to the shovel blade is not positioned correctly in every case, which can cause the shovel blade to detach from the shaft.
Fortunately, we have already been able to identify the root cause of the potential malfunction, localize the issue to three production lots and rectify it by our manufacturer.
For all affected models, rectification is possible by enlarging the pin hole. We, therefore, ask you to:
Check the affected shovel for malfunction using the included instructions.
In case of malfunction, send the shovel to Mammut for modification. To do this, please follow these steps:

Fill out the return form.
Pack your shovel, enclose the return form, and send it to Mammut Customer Service. There's a Mammut store near you? You can also drop off the package there, including the return form.
We will return the shipping costs incurred for the return to you with the modified shovel.
For customers from the US and Canada: Contact US / Canadian customer service to receive your free shipping label & return form.
Further Information
For for full details and visual references click here.
Click here for the version in German
For a full archive of equipment recalls and warnings communicated to the UIAA please click here.