The UIAA is delighted to announce that the MacGillycuddy Reeks European Innovation Partnership Project from Ireland has been named Runner-Up as part of the 2020-2021 UIAA Mountain Protection Award partnered by the Bally Peak Outlook Foundation.
A total of 24 projects operational in more than 30 countries and on six continents were showcased as part of 2020-2021 MPA. They represent a range of initiatives including encouraging youth participation, tackling pollution and climate change, creating sustainable national parks, spearheading clean-up campaigns and projects focused on women in mountaineering.
The Runner-Up is one of three prizes offered as part of the annual award. Zéro Déchet Mont Blanc was announced as the Best New Initiative on 19 November. The Overall Winner will be revealed during a special webinar held on Friday 3 December. Please find details on how to register and view the webinar here.
"The project has really gone to great lengths to bring a wide range of different interest groups together working towards one objective and a shared vision: the protection of this important corner of Ireland. Recognition as runner-up to the 2020-2021 MPA Award, will help to showcase this project widely and show how other areas in similar situations can work towards protecting our mountain habitats." – Björn Alfthan, UIAA Mountain Protection Award External Assessor and Senior Mountain Expert at GRID-Arendal.

ABOUT MACGILLYCUDDY REEKS EUROPEAN INNOVATION PARTNERSHIP PROJECT
MacGillycuddy's Reeks is one of Ireland's leading outdoor recreational destinations, its highest mountain range, and the area is under 100% private ownership. The MacGillycuddy Reeks Mountain Access Forum (a European Innovation Partnership Project/South Kerry Development Partnership) is based on a shared vision among landowners, community, recreational users, enterprise and public partners. It provides for a long-term socio-economic framework for the sustainable development of the catchment, centred on the environmental conservation of the Reeks Special Area of Conservation and proposed Natural Heritage Area. The project is endorsed by UIAA member association Mountaineering Ireland.
The shared vision of the stakeholders is to create an environmentally sustainable upland zone for agricultural, recreational, educational and research activities, including hillwalking, climbing, mountaineering, environmental and cultural heritage, underpinned by permissive access of the relevant private landowners.
Landowners on the MacGillycuddy Reeks face increasingly difficult challenges in farming. Farming in this unique upland landscape, encompassing over eight thousand hectares of Natura 2000 designated, privately owned HNV farmland, to a height of 1039 metres is subject to economically unviable labour-intensive practices, coupled with rising pressures bought about by the largely uncontrolled and unmonitored recreational use by over 125,000 people visiting the Reeks annually to climb Ireland's highest mountain.
The project aims to improve sustainability, the economic viability of farming through practical, achievable actions & innovative solutions to address issues & to protect biodiversity in this Natura 2000 area:
Empowering landowners to continue upland farming through development of sustainable agricultural management practices,
Develop, with landowners, innovative management interventions for the preservation, restoration and enhancement of upland habitats;
Create positive outreach programme and to prevent further habitat damage due to increasing recreational pressures through the formation of a landowner ranger system,
Improve the conservation status of Annex I habitats
Following the announcement of the Award, the UIAA spoke to Patricia Deane, Project Manager for the MacGillycuddy Reeks European Innovation Partnership.
UIAA: How do you feel about becoming runner-up of the 2020-2021 UIAA Mountain Protection Award?
MacGillycuddy Reeks: We are undeniably thrilled and extremely proud of this achievement. It is great to have recognition of all the hard work and effort carried out over the past seven years by all involved.
What do you hope recognition from the UIAA Mountain Protection Award brings to the project?
We hope it will provide inspiration and show other groups what can be achieved when interested people come together. We hope the recognition will further motivate us to continue growing our project and demonstrate to Government departments and the EU the importance of projects such as these to be supported, encouraged and into the future.
What are the long-term goals of your project?
We want to be a region of excellence in protecting, managing and sustainably developing the MacGillycuddy Reeks, working to ensure we can maintain vibrant rural communities, by supporting the farmers and landowners to actively manage the land in an ecologically sound manner, by encouraging and incentivising young people to engage in land management into the future and assisting local businesses to continue to grow and develop to ensure employment opportunities are available for future generations in this rural area.
Based on your own experiences, what advice would you give to people trying to create similar projects to your own in other countries?
It is vital to bring everyone to the table, to engage in the 3 c's- the consider, to consult and to communicate. Everyone will have an opinion and while we may not always agree it is vital to listen. Finding common ground and achieving 'quick wins' is important at the beginning so people can see progress. Even small pieces of work can be a great starting point.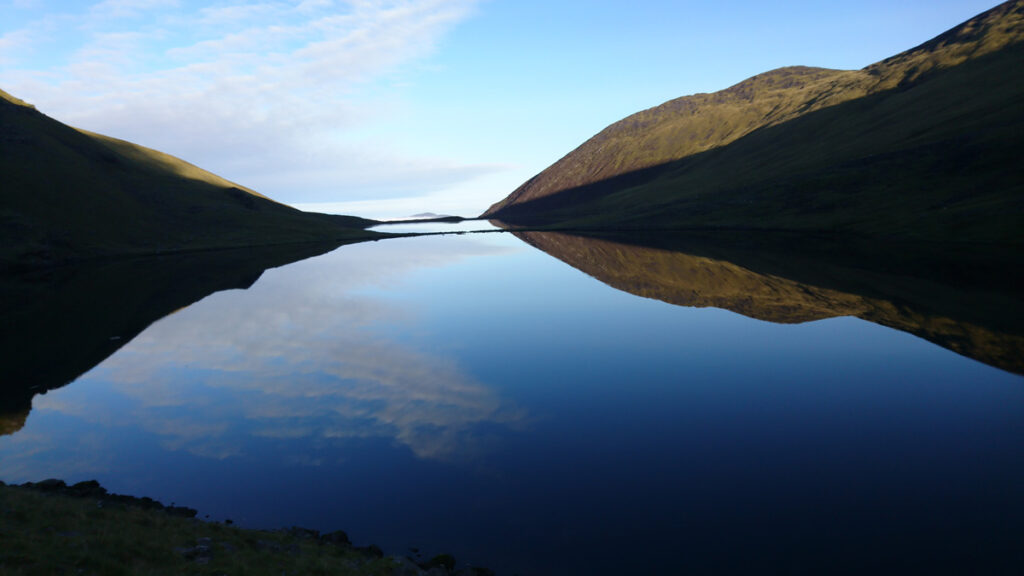 Do you believe your project model could be easily applicable to resolving access issues in other parts of the world?
Yes, absolutely. When we began this project there were many differences of opinion, sometimes outright hostility. Getting an independent Chairperson with 'no agenda' or vested interest is key to success, along with someone who can do the work on the ground, who can communicate with the relevant parties.
What has been the most challenging part of your project to date?
As we all know mountains need to be protected, particularly those with high volumes of recreational visitors. Sometimes these two factors can be at odds with one another. Obtaining funding for ongoing maintenance of restored paths and protection habitats is a significant challenge, as a number of different government agencies/departments can be involved and they may not always have a co-ordinated approach or understanding of the issues. For example, in Ireland we have: The Department of Agriculture, National Parks & Wildlife Service, Department of Rural & Community Development, Department of Tourism etc. Sometimes they can have conflicting policies and varying priorities.
How can people support your project?
We would ask people to be more mindful of their actions when they visit our mountains and observe the local concerns and limit their impact where possible by following some practical steps such as:
Walk to the centre of existing paths to prevent trampling of the nearby vegetation and creating further erosion in these fragile habitats,
Bring home all rubbish, including biodegradable waste e.g., apple cores, banana skins, tea bags, orange peels, etc.
Leave nothing behind you including memorials, plaques, framed photos etc.
Respect the wishes of the farmers and landowners who own the land that you are on. If they request you not to bring your dog, please respect this. These areas are actively farmed.
If you would like to make a voluntary contribution to support the restoration and maintenance work that we carry out you can do so by becoming a 'Friend of the Reeks'. It would be most appreciated. For more information, please visit our website: macgillycuddyreekskerry.com/funding/friend-of-the-reeks
How will you use the EUR 5,000 prize money of the 2020-21 UIAA Mountain Protection Award?
We are hoping that once Covid-19 restrictions are eased that we will have a celebration event, perhaps a Gala Awards Night for all the local people and the communities who have supported both the MacGillycuddy Reeks Forum and the MacGillycuddy Reeks European Innovation Partnership Project since they commenced. It would mark the achievement of this UIAA Mountain Protection Award and we would hope to get a person of reputation to present the six path restoration workers with their Scottish Qualifications Certificates in Environmental Conservation, the only people in Ireland with this qualification. This must be considered further by the members of the Forum for agreement by all.
FURTHER INFORMATION
UIAA Mountain Protection Award
MacGillycuddy Reeks European Innovation Partnership Project
UIAA project page
3 December Mountain Protection Award webinar
ABOUT THE UIAA MOUNTAIN PROTECTION AWARD
Since its conception in 2013, the UIAA Mountain Protection Award has proved an emphatic success. In the past eight years, the MPA has showcased and supported 142 projects from over 30 countries. The platform has enabled initiatives to receive international recognition, much-needed funding, exchange ideas and share best practices. Investment generated by the Award has helped projects advance in meeting key targets such as building infrastructures to improve the lives and conditions of mountain people and communities.
The Award is open to projects and associations whose activities are directly related to mountaineering and mountain-based sports and in parallel who demonstrate an engagement and collaboration with local communities to develop a culture of mountaineering activities and initiatives that are both sustainable and that attract and inspire visitors. 2020 marked an exciting new development with the Bally Peak Outlook Foundation partnering the Award for its next two editions. Nominated projects must be supported or recognised by UIAA member associations.
Please visit the official Award page for full details.
ABOUT THE BALLY PEAK OUTLOOK FOUNDATION

The Bally Peak Outlook Foundation was established in 2020, demonstrating the Swiss luxury brand's long-term commitment to mountain preservation. With a mission to safeguard fragile alpine environments from the adverse effects of global warming and excessive outdoor tourism, the Bally Peak Outlook Foundation aims to raise awareness around the issues threatening the future of these extreme landscapes and empowering local communities and reputable, on-the-ground partners to drive positive and sustainable change. To learn more, visit Bally.com/peakoutlook
ABOUT BALLY
Bally is a Swiss luxury brand established in 1851, with a rich heritage in shoemaking, and a longstanding relationship to architecture, arts and the environment. Today, the brand offers unique designs across shoes, accessories and ready-to-wear, driven by a dedication to craftsmanship and a contemporary aesthetic. Bally has over 320 retail stores and 500 multi-brand points of sale spanning across 60 countries worldwide, including a global e-commerce platform serving 61 countries. For more information, please visit Bally.com